We picked this 1976 Ranger 33 Tall Rig up with our trailer in Washburn WI and delivered directly to new owner in San Diego CA. We had 2 drivers in the truck and made it out there in 3 days saving the owner lots of money and time vs. using a tractor and lowboy!

Even though there was inclement weather we loaded this 2015 Boston Whaler 315 Conquest right on time in Michigan City Indiana and cautiously delivered her to McCormick Place North Chicago Illinois. We spent the night in the truck staying with the boat so that we could be unloaded the next morning on schedule to be displayed in the 2015 Chicago Boat Show.
We picked this 2006 Robalo 245 WA up Saturday at Bakers Marina Highlands New Jersey and transported her to Cincinnati Ohio and delivered Sunday.
We transported this 2000 Chaparral 300 Signature from Goose Island Boat Yard Chicago Illinois to Elba-Mar Boat Club Grosse Ile Michigan in time for the new owner to get some Fall boating in.
We picked this Hunter 34 up at Pier 7 in Bay City Michigan late on Thursday, and had her to Crowley's Boat Yard in Chicago Illinois before noon the next day to meet the anxious new owner!
We took this beautiful 1992 Sea Ray 400 Express Cruiser from Au Gres, Michigan to Babylon, Long Island, New York to her anxiously awaiting new owners!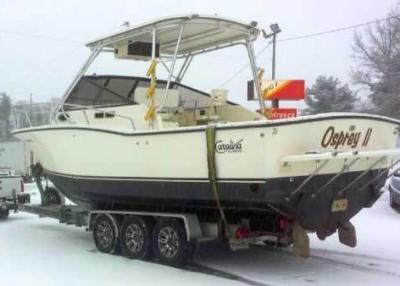 We had a rush request from dealer to pick up this repaired Carolina 28 at the factory in Edenton North Carolina and bring back North to Huron Ohio to anxious customer.
We were called on Wednesday picked up this 2013 Rinker 310 Fiesta Vee at the Factory in Indiana on Thursday and delivered to Lake Cumberland Georgia Friday morning in time for the new owner to enjoy Memorial Day weekend!
This 1977 Irwin 25′ sailboat had a 10′ beam and 35′ mast mounted on the deck. We moved her very affordably for anxious new owner from South Yarmouth Massachusetts to Wilson New York.
We picked this Catalina 294 in Onekama Michigan and delivered 3 days later to new owner in South San Francisco California.
We loaded this 1974 Trojan F-32 at Ontonagon Marina Ontonagon Michigan and transported her to Pugh Marina in Racine Wisconsin. Her height needed to be reduced by removing the Flybridge and the 13′ beam added to the challenge and required an escort. We accomplished the job safely, affordably and on schedule.
This is a 2004 cruisers 340 express from Buford, Georgia to Minnetrista, Minnesota. We picked up this 2004 Cruisers 340 express 1 week before scheduled date in Buford, Georgia and delivered to the anxiously awaiting owner in Minnesota a week before it was scheduled to be, worked out and made everyone happy!